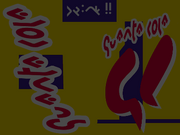 Omikron News
11 Nadim 7216
Reduced Sleeping Time
Today Ix announced that he may very soon order a reduction of ten minutes in legal sleeping time. According to his calculations this would boost productivity in certain sectors by 1. 2% and increase the AHR (Average Happiness Rate) by 0. 8%.
Rising Happiness Rate
Ix announced in his weekly bulletin that according to his calculations the average happiness of each inhabitant is higher than for the same period last cycle. This increase is due to quality scheduling and greater thought control.
Warriors lose to Mecas 38 to 71
The Warriors suffered a severe defeat yesterday in Reshev Stadium in the final of the SuperGlass. Trainer Toz Yal's team was completely incapable of responding to the power of the Mecas. The trainer was imprisoned after the match pending a decision by the managers on the level of his responsibility in this defeat.
Ad blocker interference detected!
Wikia is a free-to-use site that makes money from advertising. We have a modified experience for viewers using ad blockers

Wikia is not accessible if you've made further modifications. Remove the custom ad blocker rule(s) and the page will load as expected.